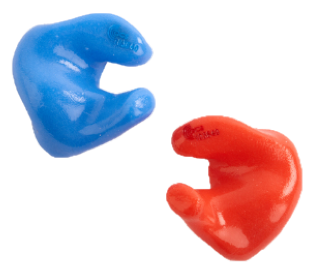 Customised ear plugs
Our Products
Biopor AB Ear Plugs
Our ear plugs are made with Biopor AB: a bio-compatible and addition-vulcanising silicone. This ensures that our ear plugs are skin-safe, tear-proof and resistant to breakdown over time.
Our ear plugs are customised according to each individual's ear for maximum retention and comfort.
Different Softness and Colour Options
We offer 3 levels of softness (extra soft, medium soft and tough elastic) and 18 colour options.
To place a customised ear plug order, you will have to get an ear impression done at our centre. Our audiologist will do a quick inspection of your ear before putting in medical grade putty. Once the putty is put in, it will take 3 minutes for the putty to harden and retain its shape. The hardened putty is then taken out and sent to the factory.
The completed ear plugs will be ready within 3-5 working days for collection.