ReSound Key 4 RIE 61 Wireless | Budget hearing aid review
Key 4 RIE 61 was first launched in Singapore in March 2021. It is the latest budget hearing aid from Danish manufacturer GN ReSound, the sister brand to the very popular headphone company Jabra.
PRO: Wind Guard & Impulse Noise Reduction
Key 4 RIE 61 caused quite a stir in the market during its release as it is the only budget hearing aids to include wind guard and impulse noise reduction technology. These features were only exclusive to advanced and premium hearing aid models.
Wind guard uses the hearing aid's dual microphones to recognize the presence of wind (turbulence caused by wind is uniquely identifiable because it is uncorrelated at the two microphones). It then reduces any turbulent sounds caused by wind to improve a user's listening comfort in outdoor situations.
Impulse noise reduction reduces the impact of sudden sounds in the environment like clanking silverware, jangling keys or slamming door.
PRO: Same ergonomic design and wireless technology as Linx Quattro
Key 4 RIE 61 has the same ergonomic tear-drop design as its predeccessor Linx Quattro (Resound's 6th Generation of premium hearing aids). It is fully sealed and offers good water and dust protection (Ingress Protection 68). It also has the same singular multifunctional push button which users can use for manual switching of volume, programs and streaming mode.
Key 4 RIE 61 also adopted Linx Quattro's core technology. The hearing aid contains the same proprietary fitting formulas and hence can offer very similar sound quality to Linx Quattro. It also has same long battery life (up to 30 hours with one charge), audio streaming, app control features, and allows for multi-device streaming with Resound's wireless accessories.
A big problem with bluetooth hearing aids (and most true wireless earbuds) on the market is the use of Master/Slave mode. Whereby the phone is connected via bluetooth to one hearing aid (Master) and the signal is then streamed over to the other hearing aid (Slave). This causes potential issues such as intermittent audio streaming, slow connection speed and users are unable to use the "Slave" hearing aid for audio streaming when the "Master" hearing aid is turned off or placed in the charger. Key 4 uses Dual mode bluetooth: allows direct audio streaming to both hearing aids and allows the master hearing aid to be switched between the Left and Right hearing aids when one hearing aid is in the charger. This keeps the bluetooth connection stable and provides better high-frequency sound quality when the hearing aids are paired with IOS devices.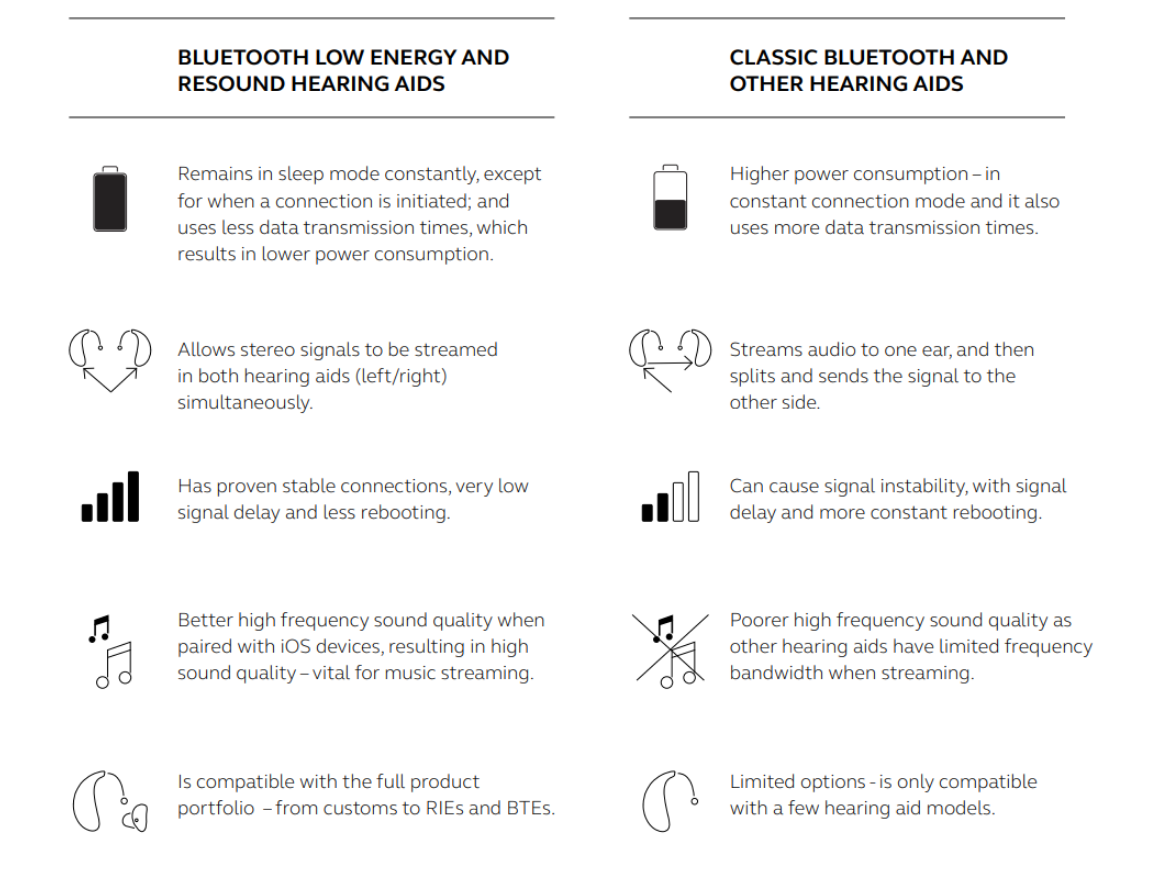 Key 4 RIE 61 comes with an incredibly lightweight (82g) and compact (82mm x 36mm x 46mm) desktop charger. We love its simple lid-less design, and wide slots for easy rechargeability.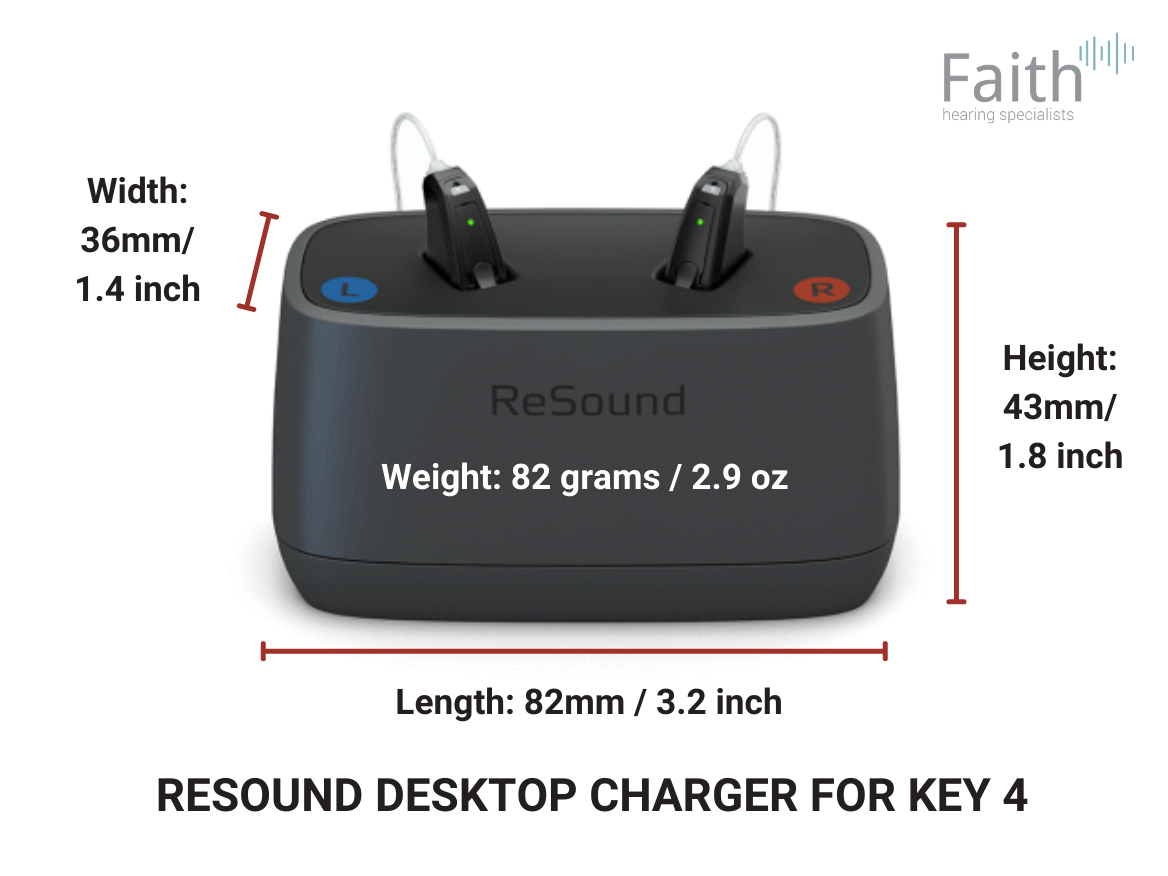 The wireless charging system recharges the hearing aid within a maximum duration of 3 hours.
The lack of the built-in lid also means the charger cannot function as a make-shift travel box. There is no air-tight compartment to put in a dehumidifer pack, which is useful for preventing hearing aid corrosion in humid Singapore. The desktop charger also lacks an internal battery for users to charge-on-the-go. Also there are no on-board LEDs so users do not know the charging status of their hearing aids.
Users who are purchasing the Key 4 may consider topping up to get the Premium Charger with the built-in lid, internal battery and indicator LED lights.
CON: Limitations with listening in challenging situations
As Key 4 RIE 61 was designed for budget conscious consumers, Resound has removed the advanced directional micophone and sound processing features that made Linx Quattro popular on the market. This includes Binaural Directionality, Binaural Environmental Optimizer, Spatial Sense and the extended 9.5kHz bandwidth. This can limit a user's ability to listen in more challenging situations, more effort is required for the user to orient themselves in their environment, selectively pay attention to the sounds of interest to them, and process useful information such as speech sounds.
CON: Not the best technology for severe-to-profound hearing losses
CON: Limited colours and boring matte finish
Hearing aid users who enjoy customising their hearing aids a wide range of colours and finishes may also be disappointed at the lack of colour options available. Also unlike Linx Quattro, Key 4 RIE 61 only has matte finishes and not gloss. While matte colours in better with the hair and skin, it also makes the hearing aid look dull and old-fashioned.
Key 4 RIE 61 is a good hearing aid choice for those who are looking for decent sound quality, battery life and audio streaming at an affordable cost.
Do note that Key 4 RIE 61's manufacturer's "first-fit" settings may not be sufficient to hearing loss prescription needs. It is always better to bring Key 4 RIE 61 to an audiologist and have the hearing aids programmed with REM (Real Ear Measurements) before use.
Hearing on Mobile Phone
3.5/5
Pros
Comfortable fit
Compact charging system
Wind and impulse noise cancellation
up to 30 hours on one charge
Direct audio streaming from iOS and Android device
Remote support available
Great frequency coverage (100Hz-8580 Hz* for LP receiver)
Cons
Limited colour options
Basic directional microphone features
Lacks advanced sound processing technology
Software glitches (when programming hearing aids)
In-built rechargeable S312 battery
No hands-free calling in stereo
Require an adaptor to stream to non-ASHA Andriod devices
Tiny multifunctional button can be confusing for user