Best Apps for Managing Tinnitus
Tinnitus is the perception of sound when there are no other sounds in the environment. It affects 1 in 6 people globally, of which, 1 in 10 cases will require some form of tinnitus management therapy. Sound generators are an important component of many tinnitus programs, as the right combination of sounds help:
Reduce the contrast between tinnitus and the environment

Provide a sense of relief caused by tinnitus

Divert attention way from tinnitus

Promote neuroplastic changes, or aid the brain in reclassifying tinnitus as something to be ignored.
Sound generators traditionally come in the form of hearing aids, tabletop generators and portable mp3s. However with the popularity of smartphones, tinnitus apps with personalized sound generators are quickly gaining popularity. Tinnitus apps improve accessibility (especially for those who do not have access to audiologists), lower treatment costs, and allow endless sound selections and personalized customization over traditional generators.
Here is a list of the best tinnitus apps in Singapore:
1) Best tinnitus apps by hearing aid companies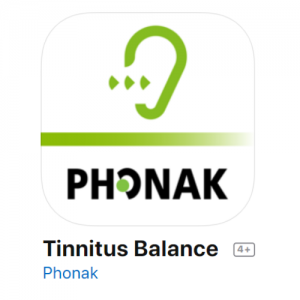 TINNITUS BALANCE (Android, iOS)
BY PHONAK
Best for: Progressive tinnitus management (with a trained professional)
This app allows users the option of uploading sounds or music from their own app library. The user can then customise the sound by controlling the volume, duration or play the sounds on loop. Our favorite feature of this app, is that is lets users rate, organize, and track the duration (in percentage) spent listening to those sounds.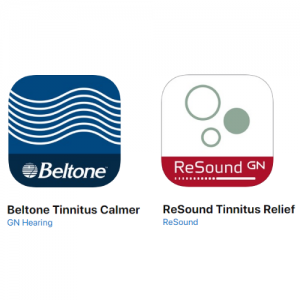 BELTONE TINNITUS CALMER/RESOUND RELIEF (Android, iOS)
BY GN RESOUND
Best for: Mindfulness Cognitive Behavioral Therapy & Relaxation Techniques
Definitely among our favorite apps on this list, they combine both sound therapy and 6 guided meditation sessions to manage stress caused by tinnitus. The beautiful apps covers extensive information on tinnitus, sleep hygiene and features a expanding bauble which educates users on deep breathing techniques.  Both apps are based off cognitive behavioral therapy and focus on changing negative thoughts and attitudes about tinnitus and encourage users to adopt positive activities such as meeting friends or exercising.
2) Best tinnitus apps for white noise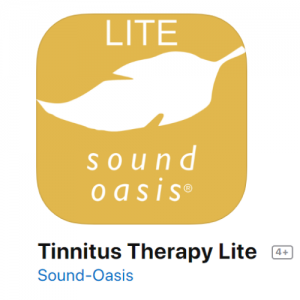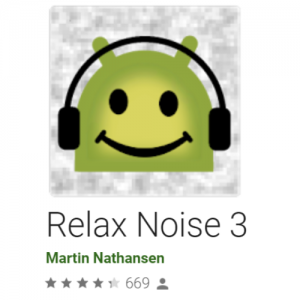 RELAX NOISE 3 (Android)
BY GN RESOUND
Best for: Pink and red noise ("softer" quality than white noise) generator.
Advert-free app focuses features 3 quality noise sounds: white, pink and red noise. It has a programmable timer (1 minute to 24 hours) and dimmable audio. App can be used as tinnitus maskers, mediation tools or as a sleeping aid.
WHITE NOISE LITE (Android, iOS)
BY TMSOFT
Best for: Heavily marketed app featured on Dr. Oz Show, Late Night Show and the Today Show.
Over 40 looped sounds with links to the White Noise Market app for more sounds. The app also allows users to customise each sound's balance, pitch, variance and speed. Note users have to upgrade to PRO version to remove pop-up advertisements which appear in the ad.
3) Best tinnitus apps for binaural beats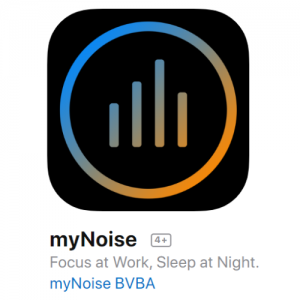 myNOISE (Android, iOS)
BY myNoise BVBA
Best for: Beautiful sound quality and fun interface.
Free app allows users to customize sounds by pushing the sliders to change the sound type (white, grey, pink, brown), bandwidth, pitch and sound scene (Ocean sounds, Forest sounds, Thunderstorm, Neuromodulator). Overall a fun and multi-purpose app that can be used for diverting the attention away from tinnitus and improving sleep.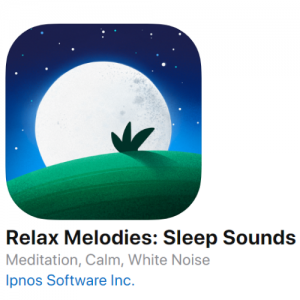 RELAX MELODIES (Android, iOS)
BY Ipnos Software Inc.
Best for: Targeting sleep difficulties with relaxing sounds and guided meditation (optional add-on purchase).
Popular app offers over a hundred types of sounds including nature, ASMR, white noise, isochronic and binaural beat machine for frequencies up to 20,000 Hz. The app can be helpful for users who have difficulty sleeping due to tinnitus.
4) Best tinnitus apps for notched audio sounds.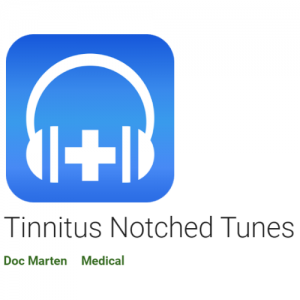 TINNITUS NOTCHED TUNES (Android)
BY DOC MARTENS
Best for: Low cost app allows tinnitus suffers to make their own notched music
App helps patients determine their individual tinnitus pitch and to design their own notch filters. These notch filters can be applied to any source of music including .mp3-files from the device library or music from a web radio station. It also has its own noise generator with White, Pink and Brown noise.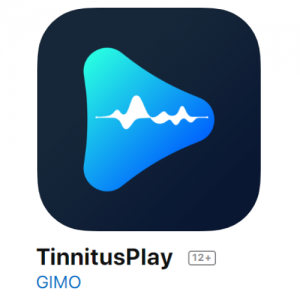 TINNITUSPLAY (iOS)
BY GIMO
Best for: Free tinnitus analysis and notched audio therapy.
Free app which allows users to match their tinnitus tone and pitch and then apply it to its library of sounds. The app has a good variety of the latest sound masking techniques such as notched therapy, neuromodulation and amplitude modulation.
While the above tinnitus apps designed to be used by tinnitus sufferers at home. They are also used as part of tinnitus management programs provided by audiologists. We recommend all tinnitus sufferers consult their local ENT or audiologist on their tinnitus before seeking any home remedies. We also recommend using sound generator apps under the guidance of a trained audiologist. As this increases the effectiveness of tinnitus management and minimizes any safety risks. To find out more about our tinnitus therapy, click the button below.